Reviews
A roundup of feedback from TV personalities, magazines and newspapers.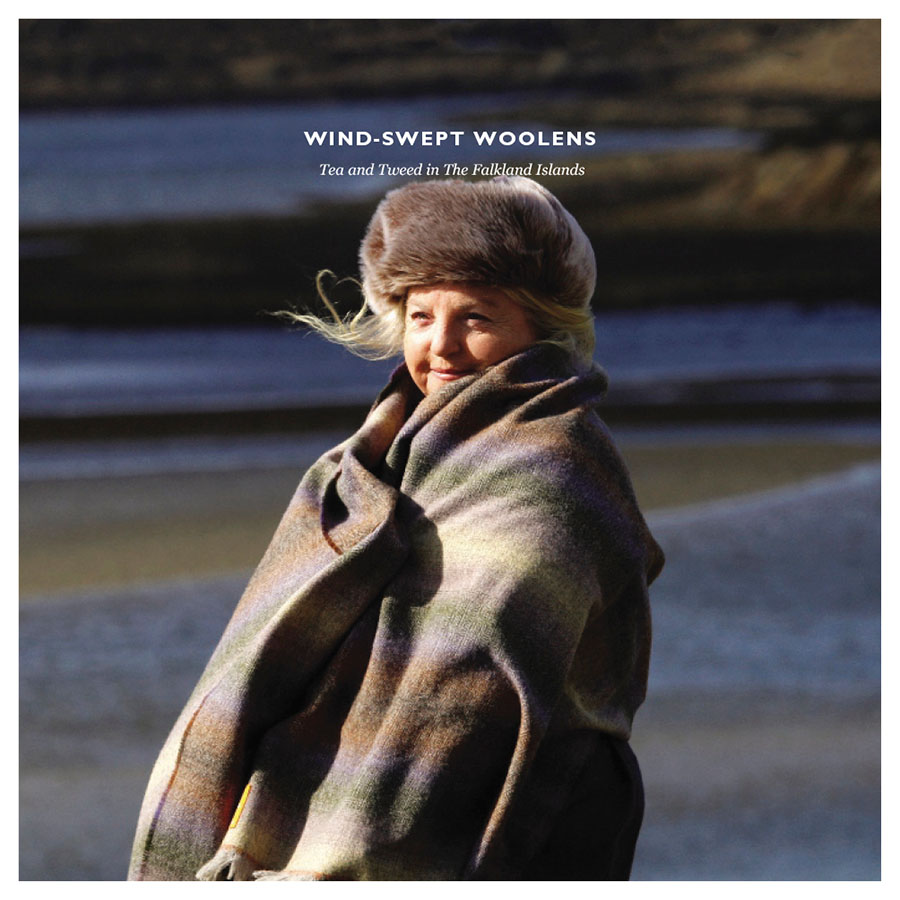 Windswept Woolens
Tea & Tweed in the Falkland Islands
From her childhood home in Cumbria, Nicola Kilmartin has baked, grilled and stirred her way around the world working as a cook, in salmon fishing camps in Northern Russia and on horseback treks in Outer Mongolia…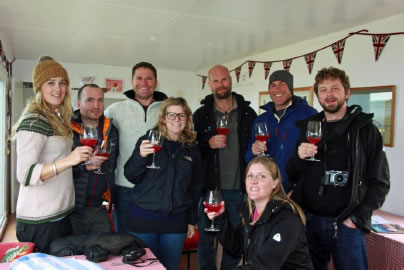 TV wildlife presenter Steve Backshall and the BBC Deadly Pole to Pole film crew (pictured above, drinking Deadly Diddle Dee Bellinis in the Sea Cabbage Cafe), visited Bluff Cove Lagoon in February 2014. Steve wrote this poem in our visitor's book:
"To sit and watch the white waves break, While sampling some sumptuous cake, And munch a scone, and a cup of tea, while watching petrels scour the sea, A glass of wine, it's proper craic. Indulging in the world's naughtiest flapjack, To leave these isles, with a smile on your face, The Sea Cabbage Cafe is without doubt, the place!"
A composite of 216 images shows the trail of stars over colonies of Gentoo and King penguins on February 19, 2016, in Bluff Cove, Falkland Islands. Hattie and Kevin Kilmartin own 35,000 acres of land along 20 miles of due-south-facing coastline that encompasses Bluff Cove, where they offer guided day tours to cruise ship visitors to the Falkland Islands.
When Kevin bought the land in 1980, he ran a traditional Falklands sheep farm selling wool on the international market. In 2002, he and his wife diversified into tourism. He says, "Tourism is the thing that has  revolutionized the farm economy. When we were buying the farm as a sheep farm, it never occurred to anybody at all that they [penguins] were going to play any part whatsoever in the finances of the farm. They were nice to have, nice to visit occasionally. That's all we thought. We certainly didn't think there was a business there. Were the cruise ships not to come anymore, there wouldn't be a business. It's all totally based on cruise ships."
Kilmartin said that in 2002 "Holland America [a cruise ship business] got ahold of us. They were bringing down their first ship to the Falklands…They said 'We need a penguin tour. What can you guys do?' We said we don't do penguin tours. After a bit of persuading, we gave them a penguin tour and we enjoyed it, they enjoyed it , and we've been doing it ever since."
(photo by @jaheezus – jahi chikwendiu/The Washington Post)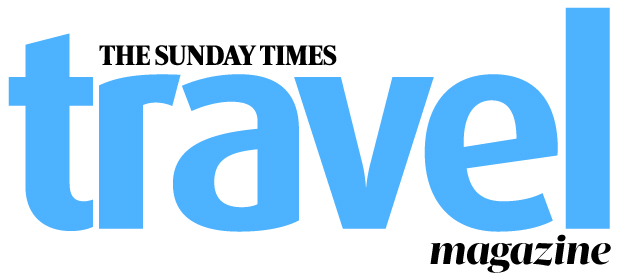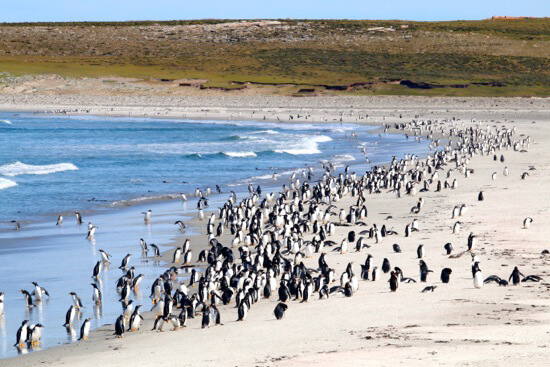 The world's 50 best beaches – Best for nature lovers.
Few beaches are remoter, but you still won't have Bluff Cove to yourself. Some 3,000 gentoo penguins stake out the white sands of this pristine bay, pacing well-trammelled 'highways' between their raucous rookeries and the South Atlantic surf. Sit on the beach and the curious creatures will waddle up to you. Magellanic penguins and sea lions frequently surf onto the scene, too. Insider tip: See the Bluff Cove Museum near Sea Cabbage Café to discover how people, as well as penguins, fare in this far-flung outpost.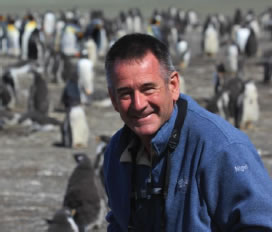 TV wildlife presenter Nigel Marven visited Bluff Cove Lagoon in January 2013 and 2015 to film part of his TV series "Cruise Ship Adventure". He is returning again this season. He had a great time at the Lagoon, and swam in the sea both times! He said:
"A wildlife spectacular! A cream tea to die for!"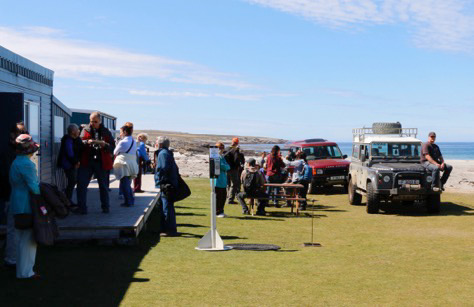 Island Hopping at the End of the World: Exploring the Falklands Near Antarctica
East Falkland, Falkland Islands
"hop in a 4×4 for the 45-minute off-roading ride to the penguin colony at Bluff Cove Lagoon, popping in for afternoon tea and home-baked scones at the farm's Sea Cabbage Café. Don't leave without sampling the handcrafted diddle-dee jam, blended from the bittersweet berries grown in the lagoon's surrounding bushes."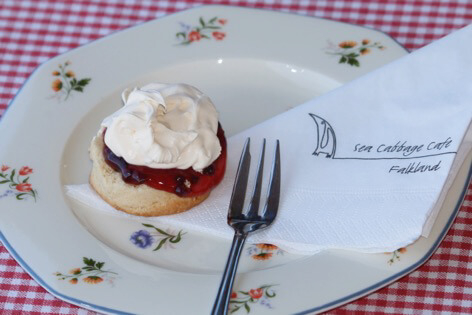 Falkland Islands
Jam Session
The Falkland Islands may lack trees, but the archipelago is covered in diddle-dee, a shrub that produces an edible red berry. For centuries, shipwrecked sailors and British settlers have used the bittersweet fruit in everything from gin to jam. Taste the islands' best preserves at the Sea Cabbage Café, a peat-heated cabin an hour south of Stanley on the isle of East Falkland. Locally renowned jam maker Shirley Goss cooks up a batch for the café almost every day during the summer. When I visited the Sea Cabbage Café, I sipped tea and ate warm fruit scones spread with home-made butter, diddle-dee jam, and fresh cream, while watching gentoo penguins play in the surf.
Stephanie Pearson
Afar Magazine, April 2010

"The tour around Bluff Cove Lagoon (home to more than 2,000 gentoo penguins and a small colony of king penguins) breaks for tea in fine British fashion and also takes in one of the islands' essentials – the Sea Cabbage Café. The café is housed in a shack on the seashore but its brightly decorated rooms and home-made cookies are legendary."
Ian Herbert
The Independent, January 2007
Why I fell for the Falklands
Roaming cook Hattie Kilmartin tells why she – and 60,000 cruise ship visitors – fall in love with the islands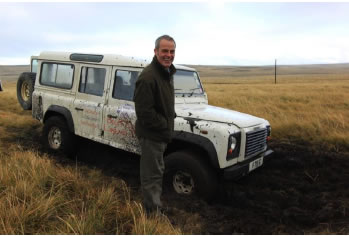 TV celebrity chef Phil Vickery visited Bluff Cove Lagoon in 2012 (and was bogged, see picture). He wrote in his food blog afterwards:
"Kevin and Hattie Kilmartin run the Bluff Cove Penguin Tour, in the season running cruise ship passengers to and from Stanley to see Penguins at Bluff Cove; it includes Hattie's fabulous food. Hattie is a serious cook, having cooked almost all over the world, including 2 stints in Mongolia."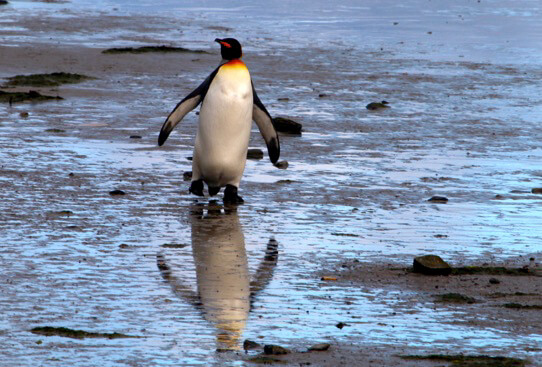 Penguins, on the other hand, don't appreciate low-flying jets. They get flustered and scatter, stumbling into each other like skittles. It's one of the things Hattie Kilmartin is keen to impress on the British Armed Forces whenever she can. Not only is her farm at Bluff Cove (south-west of Stanley) home to 2,000 gentoo penguins, but kings are also starting to breed there. When I arrived, one of the dapper adults was admiring its reflection in the shallow lagoon behind the beach.  I have to confess it was my belly, as much as my binoculars, that lured me to Bluff Cove. Sitting right on the beach, Hattie's Sea Cabbage Café serves the best cream teas south of Torquay: home-baked scones, farm-fresh cream and jam made from locally harvested diddle-dee berries. It seemed rude not to stay for dinner as well – after all, where else can you eat sea trout and slowroasted lamb, sip a decent Chilean chardonnay and gaze through picture windows at a penguin panorama? Birdwatching just doesn't get any more civilised.
Will Gray 
Wanderlust Magazine, March 2009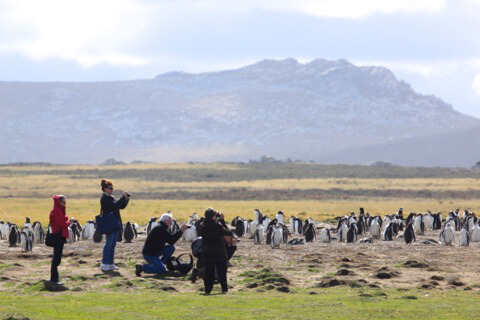 "We travel by Land Rover across bog and rocky scrubland to Bluff Cove Lagoon to see the colony of 2000 Gentoo and King Penguins.  Two separate groups – penguins and cruise guests – the first protecting the young chicks, the other snapping photos. We warm up with a cup of tea, scones and local Diddle-dee jam in the Sea Cabbage Café nearby. The Grand Voyage is over and we return home with vibrant memories: ..2,000 penguins at Bluff Cove…"
Vivien Devlin
TheTravelEditor.com, Feb 2010

"Eating homemade game pie at the Sea Cabbage Cafe at Bluff Cove with baby penguins curiously nudging my feet was an early expedition highlight."
Paul Oswell
Daily Mail Newspaper, June 2009