Bluff Cove Museum
The Bluff Cove Museum opened in November 2009, next to the Sea Cabbage Café down by the "Best Beach for Nature Lovers" (Sunday Times Travel Magazine's World's 50 Best Beaches). The Museum and shop are very popular with our guests.
The Museum displays range from penguins to pioneers and include the life of Falkland Island sheep farmers and the history of Bluff Cove Farm. Find out about the qualities of Falkland wool, local woollen crafts and spinning the wool into yarn. The farm exhibits also tell the role of horses on Falkland farms, and about life in "camp" (the countryside, taken from the Gaucho word "campo"); schooling, transport including the air taxis and coastal shipping, communications, traditional music, peat cutting, Sports Week and doctor's camp visits.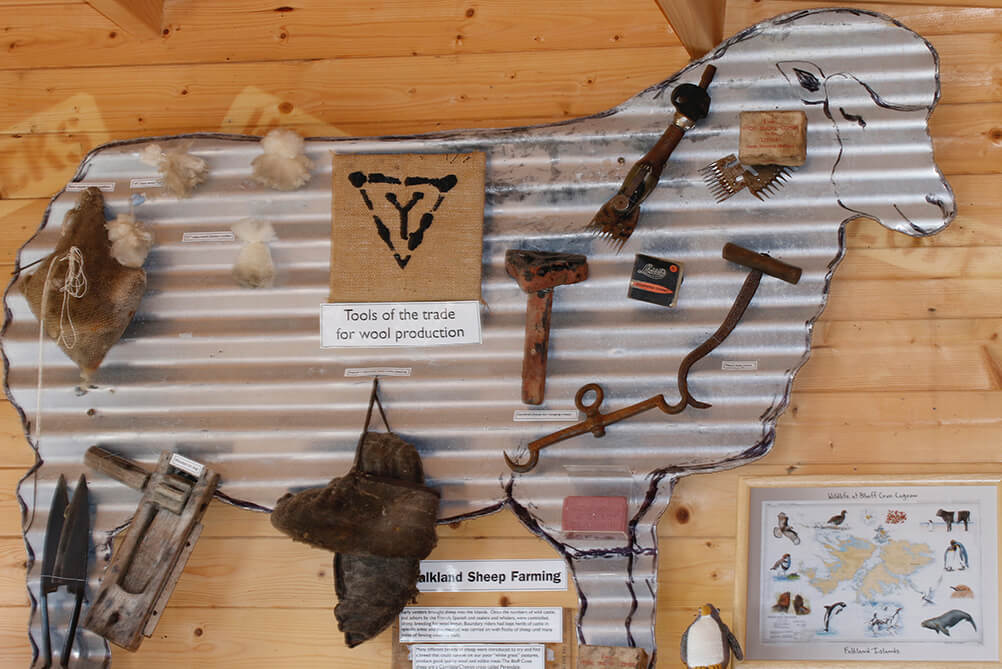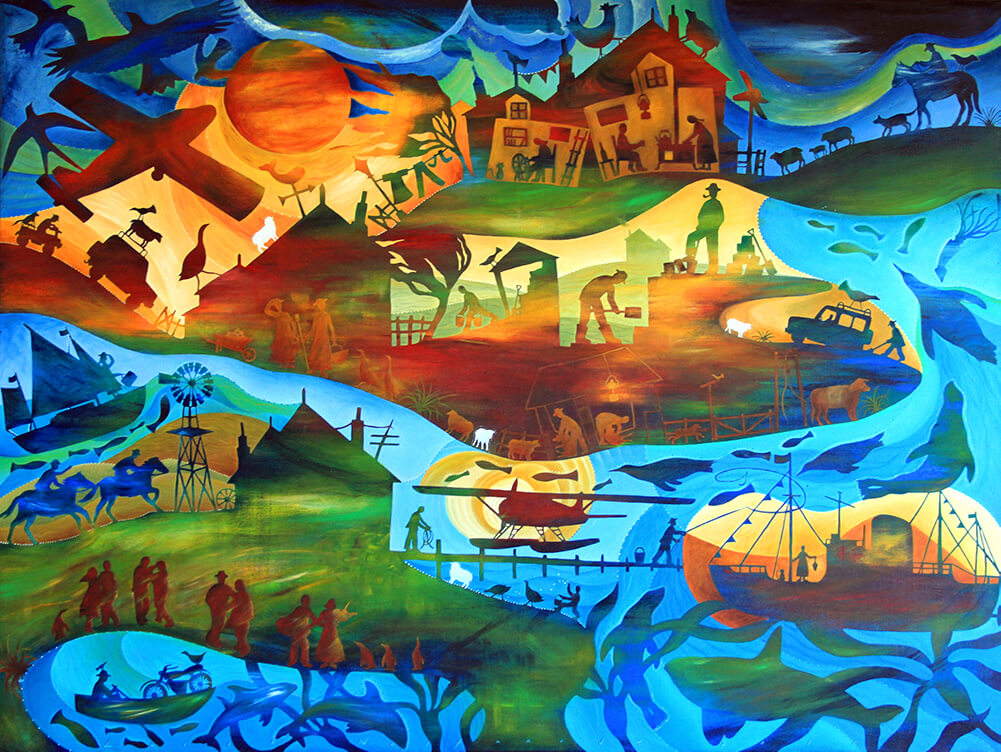 Other exhibits include: Falkland Flavours – as well as the rearing of farm animals, harvesting our seasonal wild foods – egging, gosling-chasing, fishing, berry-picking and foraging for mushrooms. Charles Darwin rode with Gauchos across the farm in 1834 on his round the world scientific journey which led to his theory of evolution. The "Sugar Wreck" (Prussian Barque Adeline) – one of many shipwrecks around our coast – wrecked at Bluff Cove in 1863, was named after a cargo of "sugar loaves", which gave their name to mountains such as Sugar Loaf in Rio. The 1982 war with Argentina, focusing on the Yellow Beach landings on Bluff Cove Farm and life during the occupation. The defeat of Argentina brought back democracy to Argentina and permitted the Falkland Islanders to determine their own futures. Lagoon wildlife and marine life, the geology, stone-runs and fossils. And the role of the Falkland Islands in fishing, sealing and whaling.
At the museum we showcase local artists with original paintings and felting. This vibrant "Camp Life" painting (above) is by Leigh-Anne Wolfaardt, who use to live in the Islands. It is a kaleidoscope of colour and stories, depicting the activities of Falkland farm life such as the gathering and shearing of sheep, spinning the wool, horse-racing, sailing, dancing the 'Benny two step', playing musical instruments and enjoying a dram around the peat stove, while the birds swirl in the skies above and the seals and dolphins frolic in the waters that teem with fish.
We also support local charities with an interest in Falkland history, such as the Robin Lee Memorial Trust, which promotes traditional Falkland music. We have had musicians play for our guests, including Scottish singer/songwriter Andi Neate who wrote a wonderful song about the Sea Cabbage Café! Pictured here playing the fiddle with Islander Maggie Goss on the accordion.